---
Informasi:
♪ Director: Zero Chou
♪ Writer: Zero Chou
♪ Genres: Drama , History , Romance
♪ Release Date: 28 December 2012
♪ Duration: 122 min.
♪ Language: Mandarin
♪ Country of Origin: Taiwan, China
♪ Score: 5.4/10 ( IMDb )
Cerita mengambil tempat ratusan tahun yang lalu, di sebuah pulau terpencil, di mana bajak laut dermaga kapal mereka dan para playboy datang mencari wanita untuk bersenang-senang. Namun selama era korupsi dan ketidakadilan ini, masih ada pria yang benar-benar tulus mencintai seseorang.
Cast:
♪ Michelle Chen (陳妍希) as Snow
♪ Ivy Chen (陳意涵) as Frost
♪ Jerry Yen (言承旭) as Scarface
♪ Simon Yam (任達華) as Master Hai
♪ Joseph Cheng (鄭元暢) as Wen
♪ Sandra Ng (吳君如) as Hua Yue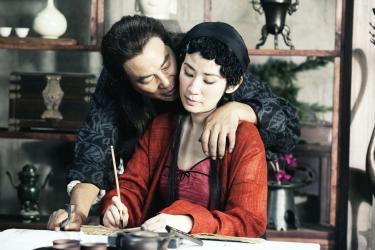 Info Video:
♪ Credit: Cinemaindo
♪ Format: MP4
♪ Convert and Upload by Ainul-kun

---
---
---
Ripples of Desire (2012) Bluray
Video Rusak ? Lapor dengan berkomentar di Post ini atau PM Saya >> Klik Disini . Mohon Kerja Samanya
---
---
---
Terima Kasih sudah mendownload di Shinokun
Related Post "Ripples Of Desire (2012) Bluray Subtitle Indonesia"